If you're looking for a top-quality bourbon whiskey, Bad Dog Distillery's Single Barrel Bourbon is a great choice. Aged for two years in a single barrel, this whiskey has a rich, smooth flavor that is perfect for sipping neat or on the rocks.

100 Proof (ABV 50%)

Bad Dog Distillery was founded by Dave and Shelly McGlothern in 2014. It is named after their dog, Hank which has had the nickname "Bad Dog" since he was a pup. Dave and Hank are best pals and almost inseparable. 

This husband and wife team are passionate about family, community and simple living. These values are reflected throughout the distillery from family members volunteering at the distillery to locals hanging out for good conversations. But, the real show case of the love, passion and simplicity is Dave and the big ole' copper still that he built with his own hands. You will quickly learn Dave's passion for making the quality whiskey using simple old fashion ways.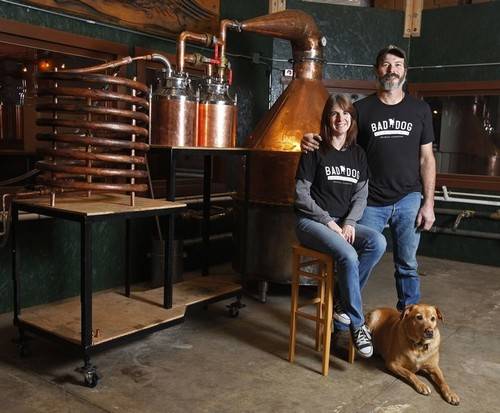 Owner and founder, Dave McGlothern, is the master distiller at Bad Dog Distillery. Dave started learning the science of distilling at a young age. He was intrigued after witnessing some old fashion whiskey making.
Fast forward 35 years, Dave along with his wife Shelly built his own distillery. Being true to his values, he did not buy an "off-the-shelf" still. No, Dave used his craftsman metal working skills and built his own.
Dave's curiosity for distilling has turned into a passion to make the best whiskey. He delights working with different grains to create unique blends that are full flavored. Dave's boldness to experiment using non-conventional grains will undoubtedly produce award winning spirits
Each barrel has its unique characteristics that lends to the whiskeys notes such as fruity, tobacco, caramel.
*SHIPPING NOTICE- If possible, please use a business address for shipping. All shipments require an adult signature which is much more reliable at a place of business.
All orders usually ship within 24-48 hours unless noted otherwise 
Quick Shipping
Orders ship on average within 24 hours.
Competitive Prices
We make sure you are getting a deal on our products!
FAMILY OWNED AND OPERATED COMPANY
Quick Shipping

Orders ship on average within 24 hours.

Competitive Prices

We make sure you are getting a deal on our products!

FAMILY OWNED AND OPERATED COMPANY
Trusted words
5

A great company with an awesome selection. Picked up a few bourbons I haven't seen before. Quick shipping!

JOHN ANGLE

5

Found a great vodka for my husbands 48th. I called for a recommendation and it did not disappoint.

STACY ORLAND

5

Easy and quick shipping. Came package secure. Glad to support this family owned business.

Robert Makom