Syntax Distillery - CO
Each product we create has a delicious taste and unique character that honors the origin of the spirit.
Syntax was one of only a handful of distilleries in Colorado when we opened in 2010. From the beginning, we decided to make authentic grain-to-glass craft spirits.
Since then, we've made every Syntax product in our handmade stills, and have never used neutral grain spirits or blended Syntax products with base spirits from other distillers. We hold ourselves to the standard of producing nothing but the highest quality craft spirits every day.
We source all of our grain from trusted farmers within 100 miles of our distillery, and our sugar cane molasses as locally as possible — from Florida. We also reduce, reuse, and recycle in every possible way that we can think of.
When you buy a bottle of Syntax Precision Spirits, you know that it's truly handcrafted, unique, and made right in Colorado.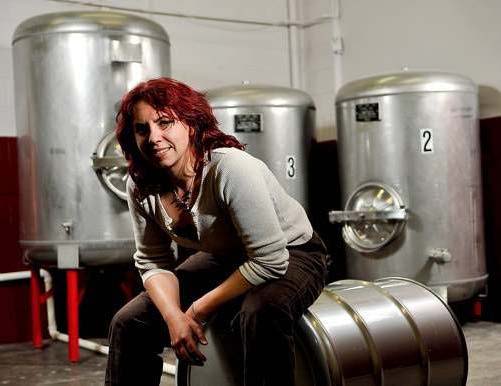 Heather Bean
Heather is a chemical-mechanical-software engineer and writer who enjoys lots of outdoor sports like whitewater kayaking, cycling, running, and swimming. She also loves fixing and building stuff…like entire distilleries from scratch. She has the glamorous job of not only running the company full-time, but also being covered in grain dust and/or mash most days as the head distiller.
Jeff Copeland
Jeff is an atmospheric scientist by trade, and Syntax's cocktail mixmaster by destiny. Jeff started slinging cocktails at age 7 at his father Mel's gala holiday parties, and hasn't stopped since. In addition to mixing some mean cocktails, he helps out with the enormous amount of record-keeping necessary to run a distillery, keeps going to his "real" science job, and has a 3rd degree black belt in Aikido…don't mess with him.
Gustav, Ginger, and Dubs, The Furry Staff
Gustav is the OG distillery cat, and he's been with us from the beginning. Formerly a feral cat, he's a spectacular hunter known as Orangeface Killah to the mice that attempt to mess with our local grain. Gustav has self-domesticated nearly flawlessly, and is easily our best-known employee with his image on two of our whisky bottles. In 2018, Gustav was gifted with a tiny orange deputy, Ginger, who's still a kitten but growing up in Gustav's very own image. Their sidekick, Dubs the little white dog, showed up on the doorstep of the distillery a few Decembers ago and never left, apparently being dumped somewhere nearby as a puppy. We think that he's a chiweenie and he thinks that  he's a working dog…though his personal definition of work is a bit suspect since it largely involves cuddling with the cats, being petted by bar customers, and receiving treats from tender-hearted souls.
Sorry, there are no products matching your search