Branch & Barrel Distillery - CO
Ryan and Tom were working in Boulder, CO when they decided it could be a hell lot of fun to make an authentic whiskey in their spare time. Together with their handy friend Scott, they fashioned an old water heater into a still, and began to fiddle with different recipes. After many fruitless attempts, they found out a formula that worked. Once successfully distilling a delicious white spirit, they turned to using cuttings from the tree branches in Tom's backyard to flavor their liquor, stored in mason jars in Tom's basement! As a result, our first barrels were these branches; hence our name 'Branch & Barrel'. They only presented it to friends and family, who loved it so much that they pushed Ryan, Tom, and Scott to scale-up production and turn Branch & Barrel into a business.
 From the beginning it was very important to the these three that everything they did was authentic, from the heart, but also with their own personal twist. Using their construction industry connections, the B&B crew went on to acquire second-hand equipment from around the country to create their equipment. The still was once a Campbell's soup maker, the fermentation tanks used to hold condiments, the high and low wines containers were formerly used in a soft-drink facility, and the tin cap sealer is a repurposed drill press from the 1930s. Scott is also a farmer, which allows us to feed our spent grains to his livestock, who gobble up this delicious nutrition.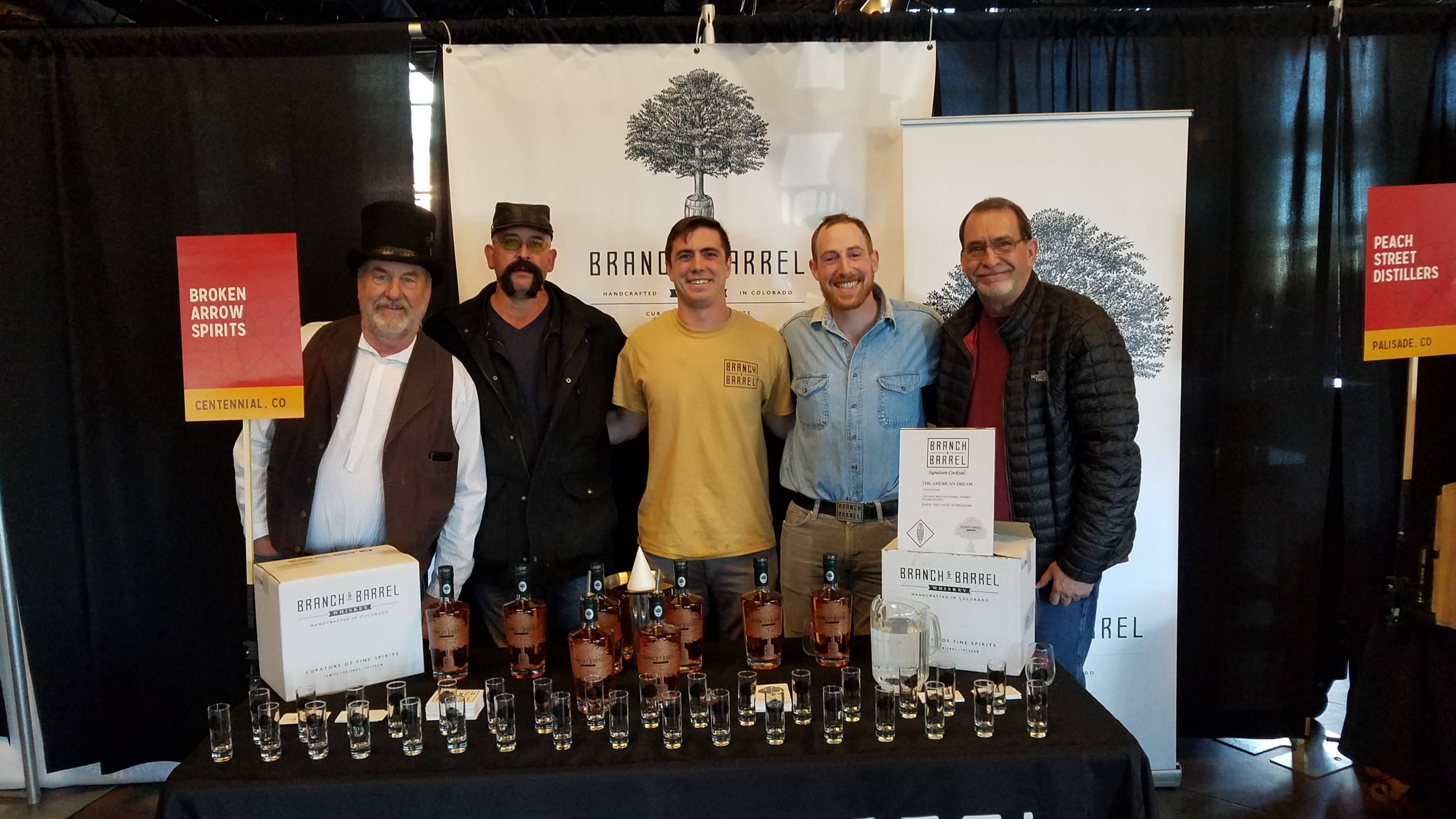 The 3 partners at Broken Arrow Spirits have watched the evolution of fine Whiskey come a long way in Colorado over the last 7 years. Having been unsatisfied with the national progression of the whiskey transformation, we envisioned a niche' for a smoother, more delicious and homegrown Whiskey. Created by using all Colorado grown native ingredients, along with the use of our fractioning still, we twice distill for flavor: giving birth to a more palatable, higher quality, and more flavorful Whiskey called BRANCH & BARREL. Broken Arrow Spirits Distillery grew out of our strong feeling of patriotism to our Country and our Western heritage. We believe in the single truth of Life, Liberty and the Pursuit of happiness; Life: referring to our quality of life. Liberty: meaning we support our veterans and active military. And Pursuit of Happiness: remembering that if we work hard, success will follow. The Broken Arrow meant Peace and Friendship to Native Americans. We 3 owners believe in that also, and have been friends and enjoyed outside working relationships with each other for some 20 years. We came together to bring joy and friendship to the Whiskey.
Sorry, there are no products matching your search